Hi, how are you?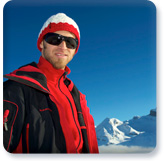 Yes, if you whish I can also teach you how to snowboard in English.
Maybe you ask yourself what are the benefits of taking a snowboard-course.
As a SSBS-Expert (Schweizer Schneesport Beruf- und Schulverband) and trainer of the Swiss junior Freestyle athletes I can offer you my expertise of how to improve and consolidate your skills. Your snowboard training will be optimised on the basis of your existing abilities. Like this you will not only stay motivated but also be more able to maximise the result.
Who can participate in such a course?>
Actually everybody who is interested to learn more then just the basics in snowboarding. The motto is "be ambitious and try to improve your knowledge". In this context I can also offer long-term couching.
What am I offering?
I'm offering personalized practical and theoretical training. The practical exercises are additionally enhanced trough video-analysis. With the right coaching it's a peace of cake to improve your snowboarding!
What's the cost of such a course?
The cost per person and lesson is:
1 to 2 lessons, 150.-Sfr
3 to 5 lessons, 140.-Sfr
More then 15 lessons, 120.-Sfr
1 lesson takes 2 hours
Every additional person costs 30.-Sfr
I can accept maximum 5 persons at the same time.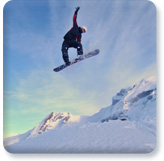 Location?
The training takes place in the Hoch-Ybrig ski resort. You can find the location plan on Hoch-Ybrig or contact me.

We hope we see you soon.
easy to find: